SOAGN
America's Lo-Fi Orchestra
SGN creates eclectic instrumental rock songs in their home studio and re-creates them live on stage. Each Shadow Of A Great Name album swings through a variety of moods and textures, from pulsating electronic soundscapes to frantic guitar outbursts.
Influenced by the likes of Can and Brian Eno, Ennio Morricone, Bill Frizell, John Coltrane, Talking Heads, King Crimson, Chemical Brothers, and The Meters, SGN creates structured compositions that aren't overly complex or too improvisational.
These diverse influences are woven into a kind of imaginary film score, with the band often composing the music an entire set at a time rather than as individual songs. The result is a stream-of-consciousness effect, both in the studio and on stage.
Every SGN live show is a unique experience-- each set list is different from the last, with fresh arrangements of older material and new segues added to give each concert a seamless presentation. Shadow Of A Great Name delivers their out-of-the ordinary rock music to audiences in an accessible way.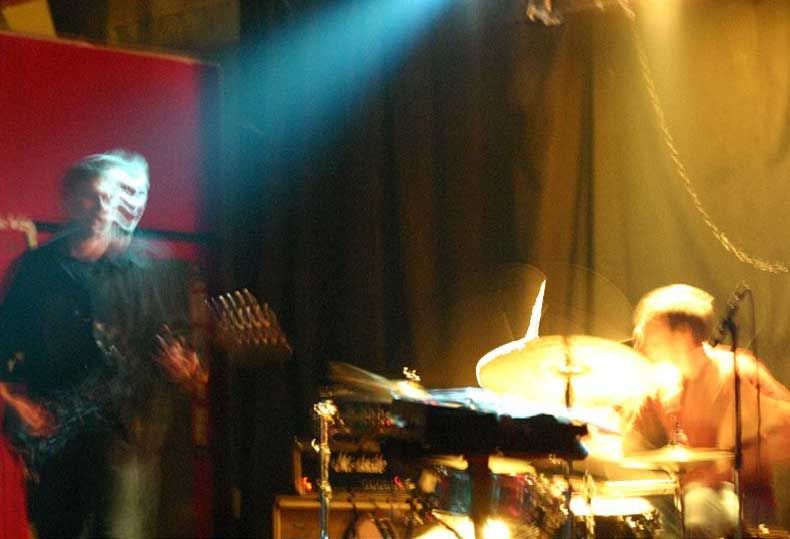 Shadow of a Great Name
Albums
This instrumental trio opts for creating mesmerizing, atmospheric, groove-oriented post-rock.

The Big Foot' is a heavy thrasher with a demonic [King] Crimsoid attitude with lots of tension and release, while 'Wallop' uses a rhythm box and electronic effects with sampled voices in a sort of acid jazz context.

…a recording of experimental compositions welded by post-punk, sound collage, and ambient textures. Its rhythmic foundation is complex and intricate, allowing dark surprises for the unsuspecting listener. Talents like this bring back the memories of grade school music class when you were just begging to learn to listen how to listen intently to music.

Employing an array of samples, turntables, drum machines, vintage keyboards and guitar pedals, [SOAGN] craft a sound that flirts simultaneously with electronica, jazz and noise…

Eerie, strange and full of weird-sounding effects, the band's ambient instrumentals welcome the intergalactic age with open arms.